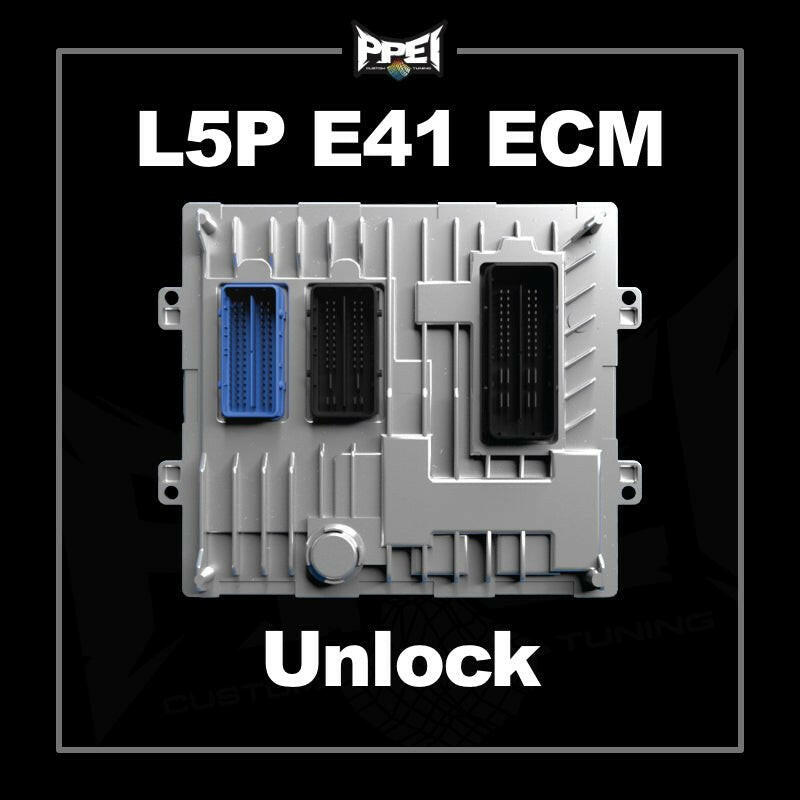 L5P E41 ECM Unlock Service by PPEI
PP-E41-US
PP
E
I
's
L
5
P
E
41
EC
M
Unlock
Service
is
the
industry
-
leading
solution
for
unlocking
your
EC
M
in
less
than
48
hours
!
Our
service
will
unlock
your
EC
M
,
enabling
O
BD
II
flashing
abilities
on
your
truck
.
This
service
is
compatible
with
all
calibr
ators
and
is
not
specifically
for
use
with
one
particular
tuning
company
.
Please
note
that
the
EC
M
must
be
brand
new
or
the
current
EC
M
installed
in
the
truck
. After the ECM is unlocked, you must purchase tokens/credits/licenses from your preferred tuning platform to enable aftermarket ECM calibration installation. With PPEI's L5P E41 ECM Unlock Service, you can flash your ECM in no time. ECM Unlock Service requires sending your ECM to PPEI to perform the unlock.
**Note: Core E41 ECMs from another vehicle will not work.
Attention

: 
PPEI would like to inform customers who are planning to purchase our L5P E41 ECM Unlock Service that it is essential to have tuning from PPEI or another reputable company prepared for installation. Failing to do so will render the ECM inoperable. It is crucial to flash the L5P E41 ECM with a proper calibration after unlocking in order to ensure seamless functionality and usage. Please make sure to have the appropriate tuning solution ready before proceeding with the unlock service to avoid any complications.
---
Share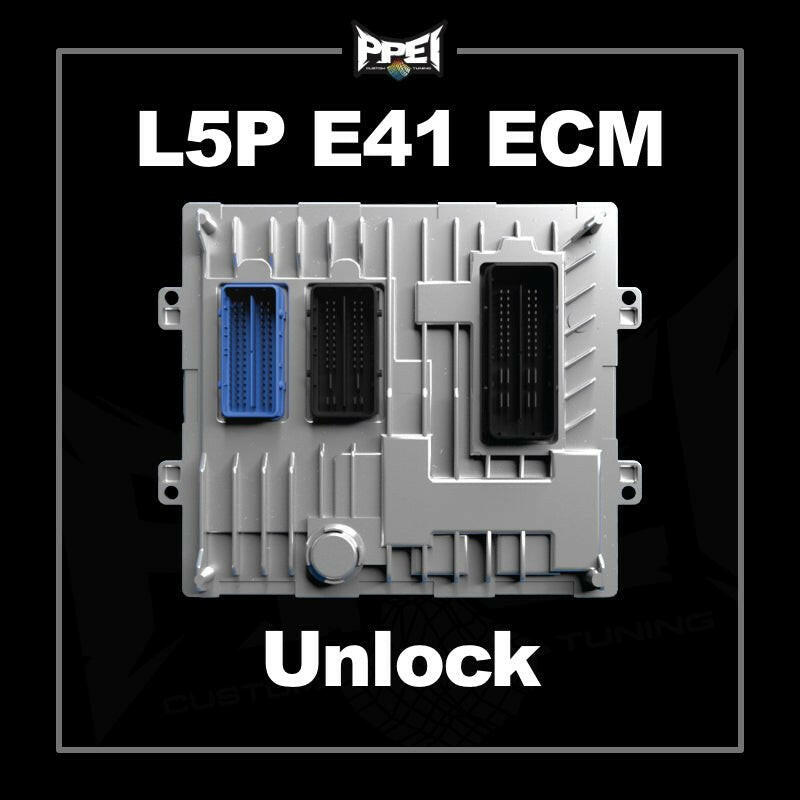 WHO IS THE TUNER/CALIBRATOR
PPEI, also known as Power Performance Enterprises, Inc., is led by the business owner and lead calibrator/tuner Kory Willis. PPEI began calibrating/tuning back in 2008, specializing in Diesel Performance but has since expanded into the Gas and Powersports industries. Kory and the team at PPEI have set many world records along with continuing many industry "firsts". We take pride in knowing that Kory not only prides his work, but also thoroughly enjoys setting expectations high for our team so our customers can have the best products available in the world.