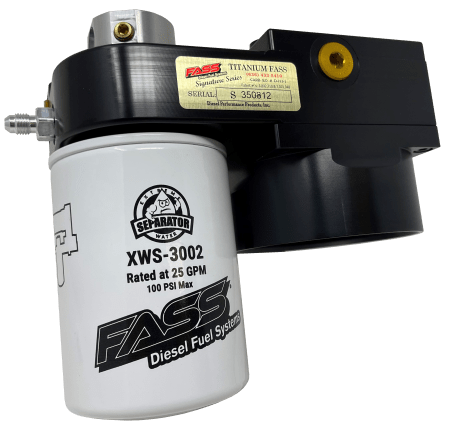 FASS Fuel Systems Drop-In Series Diesel Fuel System 2017-2023 GM (DIFSL5P1001)
DIFSL5P1001
Description
FASS Fuel Systems Drop-In Series Diesel Fuel System 2017-2023 GM (DIFSL5P1001)
Fits: 2017-2019 Crew Cab Short Bed L5P Duramax
Fits: 2017-2023 Crew Cab Long Bed L5P Duramax
Part No: DIFSL5P1001
The FASS Drop-In Series Diesel Fuel System was engineered by FASS to be the most effective filtration solution for the L5P Duramax. Backed by our limited lifetime warranty, the Drop-In Series Fuel System protects your L5P Duramax from the issues caused by fuel contamination.
Without proper fuel filtration, modern diesel injection systems are prone to excessive wear, which can cost THOUSANDS! By removing over 99% of the water from your diesel fuel, along with entrained air and debris down to 2 Microns, the Drop-In Series System protects the L5P's injection system from premature failure.
Additionally, by eliminating the contaminants mentioned above, our Drop-In Series System for the L5P Duramax optimizes MPG (results will vary), restores horsepower, and sharpens throttle response.
And if reliability, optimized MPG, restored horsepower, and a sharper throttle response isn't enough, this system can be installed in an hour or less! This is a true plug-and-play system, requiring no cutting, wiring, or additional modifications. Better still, this system requires ZERO tuning changes! Whether your L5P is stock or modified, our Drop-In Series Systems will not require adjusting tunes or clearing any codes.
Our industry-leading water removal capabilities (3rd-party proven to exceed 99%) are reinforced by the unique design of our Extreme Water Separator (XWS). If our XWS reaches capacity, it acts as a dam, shutting down your truck and preventing major destruction of fuel system components.
FASS Drop-In Technology

 was developed to achieve industry-leading filtration with the simplest possible installation—making our Drop-In Series Systems a true bolt-in upgrade. If you're mechanically inclined, a Drop-In Series Fuel System can be installed in your driveway in less than an hour! But don't let the easy installation fool you—our Drop-In Series Fuel Systems offer the same world-class filtration as our Titanium Signature Series and Industrial Series lines.

Performance Radius Cuts (PRC)

 are an advanced machining technique used to improve the flow of fuel through the FASS System by creating smooth-flowing cuts within the aluminum housing. This prevents the reintroduction of air and vapor back into the fuel and prevents eddy currents from forming within the corner of a 90-degree sharp angle. FASS Drop-In Fuel Systems are the only Fuel Air Separation System that incorporates these exclusive Performance Radius Cuts, lesser competitors commonly use T-Bone and square 90-degree fittings that can limit fuel flow, cause restrictions and reintroduce air back into your fuel.
2017-2023 L5P Duramax Drop-In Series System Features:
The only drop-in L5P filtration system that retains full functionality of the water-in-fuel sensor!
The only drop-in L5P filtration system with air separation!
Increases lubricity of the fuel by up to 10% by removing entrained air and air vapor.
Extends the life of fuel injection system components.
Over 99% free and emulsified water separation with our Extreme Water Separator technology.
2 Micron absolute filtration rating.
100% drop-In, no additional modifications needed.
---
Share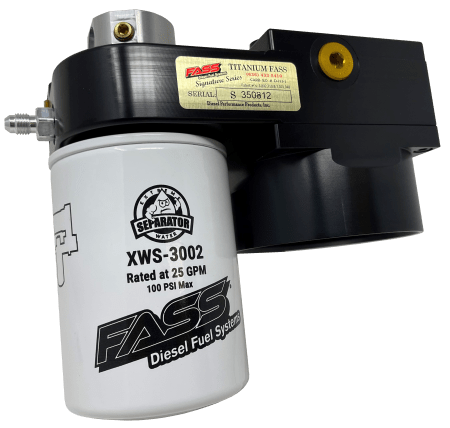 WHO IS THE TUNER/CALIBRATOR
PPEI, also known as Power Performance Enterprises, Inc., is led by the business owner and lead calibrator/tuner Kory Willis. PPEI began calibrating/tuning back in 2008, specializing in Diesel Performance but has since expanded into the Gas and Powersports industries. Kory and the team at PPEI have set many world records along with continuing many industry "firsts". We take pride in knowing that Kory not only prides his work, but also thoroughly enjoys setting expectations high for our team so our customers can have the best products available in the world.