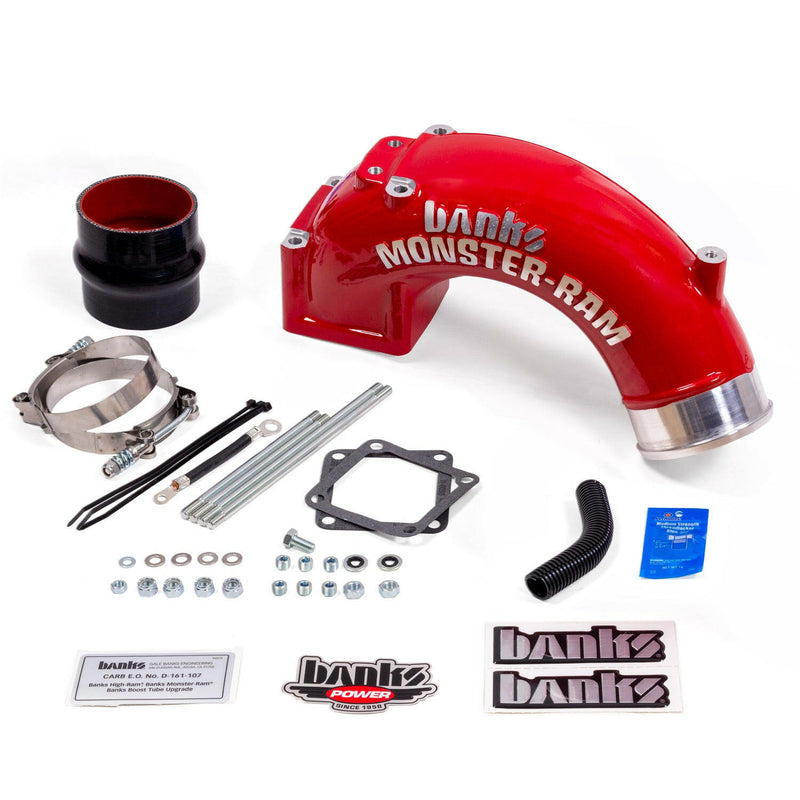 Banks Power Monster-Ram Intake Elbow Kit 03-07 Dodge 5.9L Stock Intercooler Banks Power
42765
Monster-Ram improves airflow from the intercooler. Raises boost without increasing backpressure at the turbine. Result: a more responsive, fuel-efficient engine. Up to six 1/8 inch NPT ports for flexibility! At Banks Power, just enough is never enough when it comes to engine airflow. Maximum power, performance and efficiency are the ultimate goals, but to make it all happen the engine has to breathe freely and without needless restrictions.
Finding ways to pump your engine full of cooler, denser air has always been the key. Our High-Ram intakes have always whipped the competition. Our new Monster-Ram flat-out destroys it. Utilizing the latest in electronic computational fluid-dynamic technology, tested on the flow bench as well as on the dyno, and finally proven in the real world where the rubber meets the road, Monster-Ram is a beast that only Banks could have unleashed.
A simple, direct-replacement casting, Monster-Ram is instant power, performance and acceleration gratification. The factory inlet is cramped and angular compared to Banks larger, streamlined cast-metal Monster-Ram. It's the perfect upgrade whether you're just starting out or working to build a serious, purpose-built machine.
And with up to six ports for water/meth/propane/nitrous injection (or pressure/temp. sensors), the sky's the limit for performance expandability. Monster-Ram is CNC port-matched to the stock heater as well as the optional Banks Billet Intake Grid Heater Delete spacer.
Proof positive that Banks Monster-Ram outflows the competition by nearly 57 percent! Did we rig the test by doing anything to hurt the other guys product performance? No way. We just kept improving ours until we put them on all back on the trailer
Improves airflow from the intercooler
Raises boost without increasing turbine drivepressure
Larger and less restrictive than stock intake
Improves flow of oxygen-rich air into cylinders
Quicker throttle response
Out-boosts the competition by up to 56.9 percent
Up to six 1/8 inch NPT ports
Use with stock boost tube
Delivers instant torque
CNC port-matched to the stock heater as well as the optional Banks Billet Intake Grid Heater Delete spacer
Red Powdercoat Finish
Monster-Ram Intake Elbow Kit for use with 2003-2007 Dodge 5.9L, Stock Intercooler
Regular price
$0.00 USD
Sale price
Unit price
per
Sale
Sold out
---
Share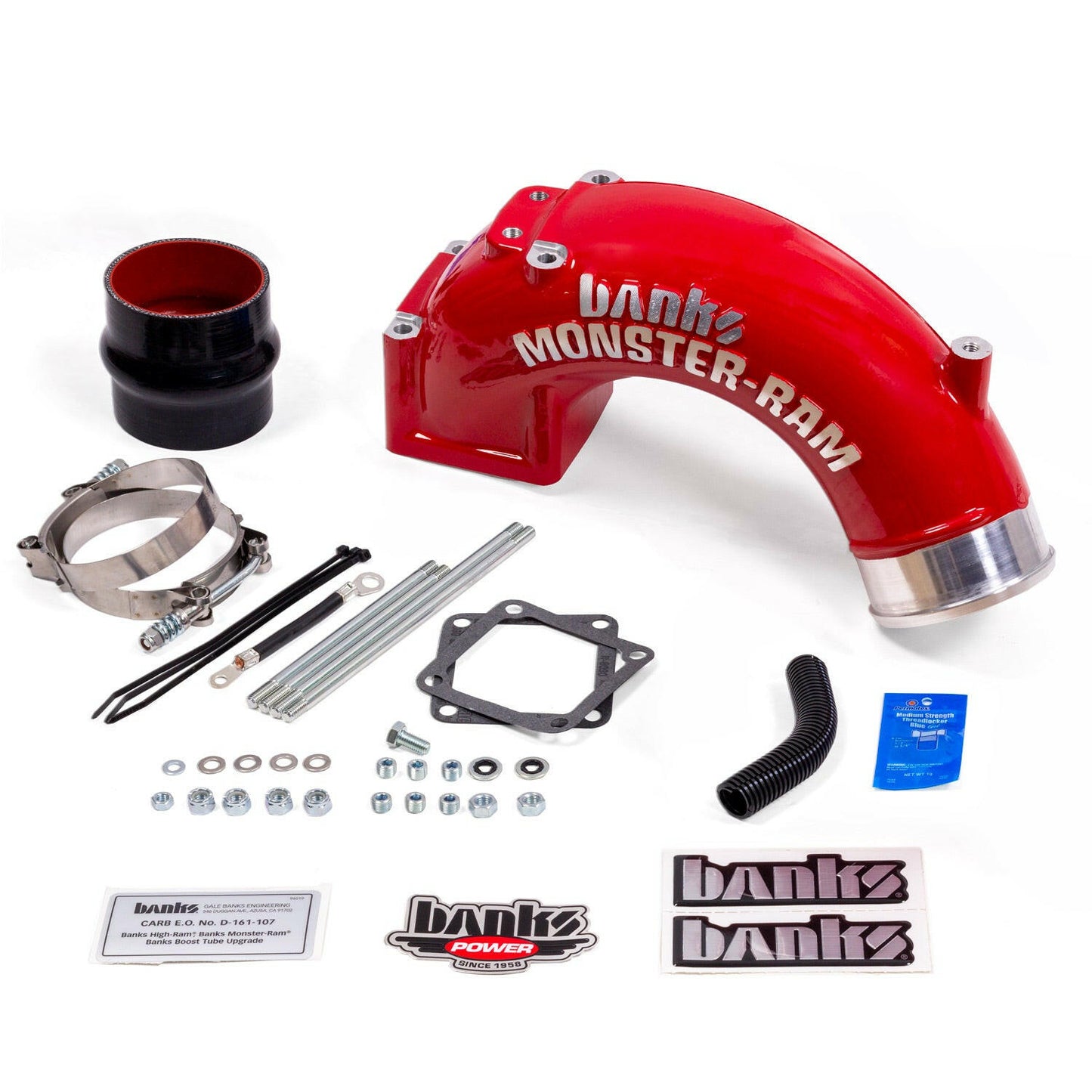 WHO IS THE TUNER/CALIBRATOR
PPEI, also known as Power Performance Enterprises, Inc., is led by the business owner and lead calibrator/tuner Kory Willis. PPEI began calibrating/tuning back in 2008, specializing in Diesel Performance but has since expanded into the Gas and Powersports industries. Kory and the team at PPEI have set many world records along with continuing many industry "firsts". We take pride in knowing that Kory not only prides his work, but also thoroughly enjoys setting expectations high for our team so our customers can have the best products available in the world.