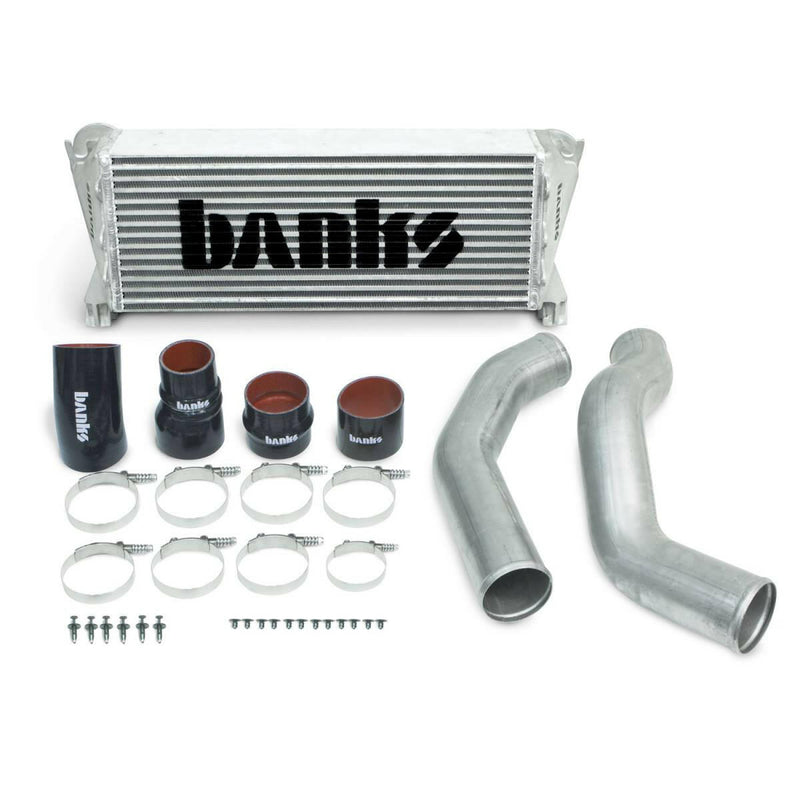 Banks Power Intercooler Upgrade Includes Boost Tubes Natural Finish for 13-18 Ram 2500/3500 Cummins 6.7L Banks Power
25989
Superior to stock, everything about Banks Techni-Cooler Intercooler system is bigger. It includes mandrel-bent high-flow boost tubes - large, high-efficiency all-aluminum end tanks - a wide-open inlet and outlet - a thicker core area with an improvement in volume. Techni-Cooler dramatically increases the cooling capacity by balancing the richer fuel mixture with greater airflow and cooler, denser air.
Denser air has more oxygen, which improves combustion as well as engine efficiency. Result: higher continuous power and more power at any exhaust gas temp (EGT), better fuel economy and lower EGTs. That's a truckload of benefits! Banks Techni-Cooler delivers the maximum reduction in boost air temperature with a minimal loss of boost pressure. It doesn't get any cooler than Techni-Cooler! Mounting hardware included.
Turbos and intercoolers are Density Machines. Increased Boost Air Density? Bad is very Good for power. After 58 years, the crew at Banks is Damn Good at making Bad! The numbers don't lie! When you compare the New Banks Intercooler for the Ram 6.7L to stock and aFe, you can clearly see why Banks is better.
The Banks 6.7L Ram intercooler outflows stock 13 x better than aFe does, and flows 2.5 x better than aFe. Plus, with 55 percent reduced pressure loss, your looking at some serious density increases which equal massive power gains. When you compare to aFe in regards to the performance, and then see that we do it for less, why would you buy anything other than Banks? Banks - Huge Performance Advantage and lower price!
Details:
Improves Power, Durability and Fuel Economy
Allows for a calculated 27 hp and 51 lb-ft
Dramatically increases air density
Cooler EGTs, more MPG and constant-duty power
High-efficiency custom-machined durable cast end tanks
Wide-open inlet and outlet
Reduces boost pressure loss
Maximizes Boost Air
Lowers exhaust gas temps
Packs cool, dense air into the cylinders
Lower restriction for superior flow
2-year warranty
Steady power output even under extreme temperatures
Includes all necessary hardware
Fits 2013-2018 Ram 6.7L
Regular price
$0.00 USD
Sale price
Unit price
per
Sale
Sold out
---
Share
WHO IS THE TUNER/CALIBRATOR
PPEI, also known as Power Performance Enterprises, Inc., is led by the business owner and lead calibrator/tuner Kory Willis. PPEI began calibrating/tuning back in 2008, specializing in Diesel Performance but has since expanded into the Gas and Powersports industries. Kory and the team at PPEI have set many world records along with continuing many industry "firsts". We take pride in knowing that Kory not only prides his work, but also thoroughly enjoys setting expectations high for our team so our customers can have the best products available in the world.