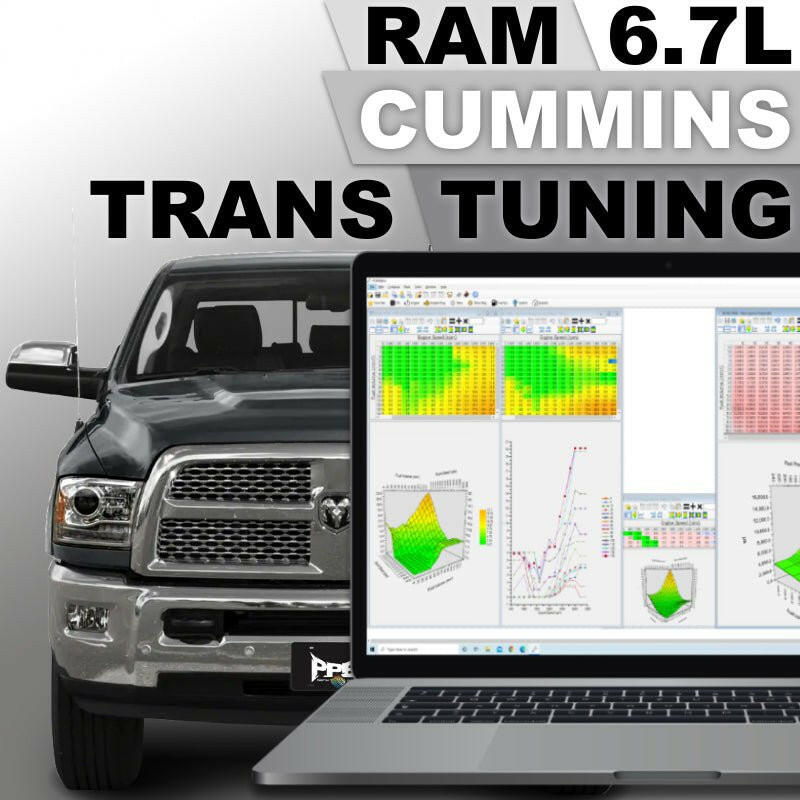 2013 - 2018 Ram 6.7L Cummins 68RFE | Transmission Tuning by PPEI
PP-CME-TT
Extend your transmission life and increase your fuel economy with PPEI Transmission tuning! A MUST for tuned trucks with additional torque.
The refined shift points get rid of the low rpm "Lazy" feel these trucks have that force the driver to stab the throttle for a downshift – not cool and a fuel economy killer! For vehicles with larger turbochargers, ppei transmission tuning is a must to get the engine back into a rpm range to match the torque curve of the new turbo.
Along with the improved shift points, PPEI also refines the torque converter lockup strategy to put the power to the ground much more efficiently for improved fuel economy by eliminated unnecessary slip in the torque converter – which also drives down heat in typical "unlocked" conditions.
We at PPEI take pride in our work and if there is anything you wish to have changed in your transmission calibration,  we are here to make it fit your driving style - "Custom Fit"!
This can be installed with the PPEI RTD, EFILIVE, EZLYNK or HPTuners MPVI2
---
Share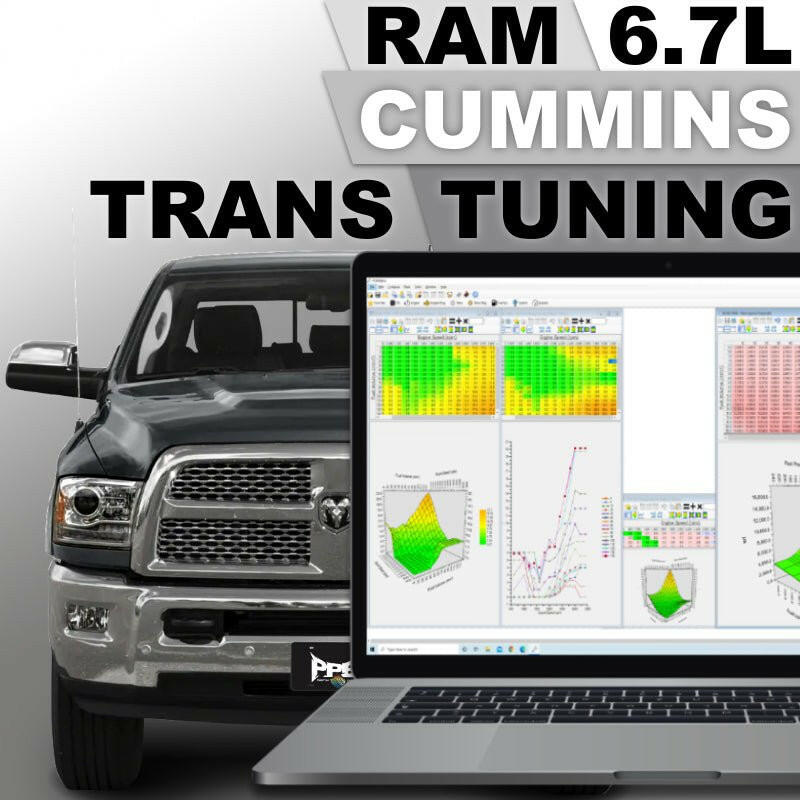 2017 Ram 100HP and Trans Tune
Extremely happy with the tune and customer service. Initially I had an issue getting the tune to download, the guys at PPEI walked me through a couple of procedures to get it working. The truck has much more power, but what I really noticed was transmission shifts. No more hunting for gears, a much smoother overall experience. I also had a 2-mpg gain while towing our camper. Couldn't be happier.
Ram 2500 60hp and trans tune
I purchased the 60hp power and transmission tune for my 2016 Ram 2500 Diesel. I like the power increase for towing however changes in transmission characteristics seem minor but improved. I would've appreciated a little more info on tuning parameters because my original intent was just to increase transmission line pressure to help longevity. But as mentioned above, power increase is noticeable transmission characteristics are not. Also it would've been nice to have some written instructions or a link on how to load the tune onto my truck which I thought was a bit ridiculous considering paying $1500 + for the product. Had to search around for a video that wasn't exactly what I had. Still seems like a good product and my Ram has 45k on it so we'll see how the Transmission holds up.
WHO IS THE TUNER/CALIBRATOR
PPEI, also known as Power Performance Enterprises, Inc., is led by the business owner and lead calibrator/tuner Kory Willis. PPEI began calibrating/tuning back in 2008, specializing in Diesel Performance but has since expanded into the Gas and Powersports industries. Kory and the team at PPEI have set many world records along with continuing many industry "firsts". We take pride in knowing that Kory not only prides his work, but also thoroughly enjoys setting expectations high for our team so our customers can have the best products available in the world.