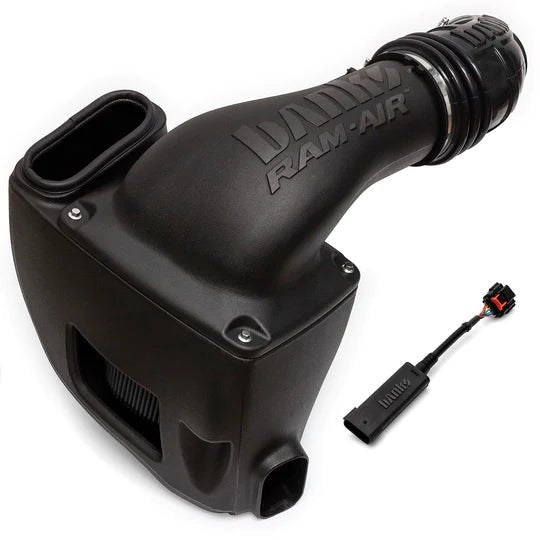 Banks Power Ram-Air Cold-Air Intake System Dry Filter for use with 2020 - 2023 Chevy/GMC 2500 L5P 6.6L Banks Power
42266-D
Brand new for the 2020-2023 L5P platform, the Banks Ram-Air intake is a game-changer. With 2020 and up Duramax engines, GM has further tightened the allowable range for induction tuning. To counter this, Banks engineers have designed a new patented Air Mass Control Module that allows an intake design to go beyond these limitations for truly unmatched airflow performance.
With a Big-Ass filter, huge induction tube and a unique bellowed silicone coupler to allow for engine movement while tapering down to increase air density, your 6.6L engine will breathe easy and cleanly. Its enclosed airbox design keeps power-robbing heat away and attaches to the OEM hood and front ram air scoops for even better performance at speed on the highway. An extra side inlet opens up to the wheel well for fresh air and a strong induction note sound.
Includes brand new Patented Banks Air Mass Control Module
"Big Ass Filter" Extends service life and requires fewer cleanings
Enclosed housing keeps out hot, power-robbing engine air
Unique EPDM elbow with exclusive bellows for engine movement
Oversized airbox increases cool air volume around filter
Massive two piece XLPE airbox for easy servicing
Connects to OEM hood and forward ram air scoops
More audible and aggressive induction note
Dry Air Filter Element
5-year Limited Warranty
No Check Engine Light
US Patent #11,193,441
---
Share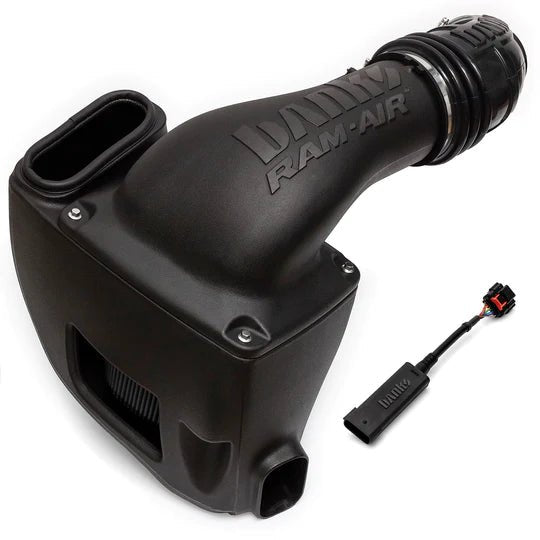 WHO IS THE TUNER/CALIBRATOR
PPEI, also known as Power Performance Enterprises, Inc., is led by the business owner and lead calibrator/tuner Kory Willis. PPEI began calibrating/tuning back in 2008, specializing in Diesel Performance but has since expanded into the Gas and Powersports industries. Kory and the team at PPEI have set many world records along with continuing many industry "firsts". We take pride in knowing that Kory not only prides his work, but also thoroughly enjoys setting expectations high for our team so our customers can have the best products available in the world.